Hey there, hope you all had a wonderful holiday!
We recently released the 0.6.4 update, which is also the first one this year. This update introduces the first part of a new asset import experience, and the experimental Pad Synth Node.
---
Priority Fixes
Fixed not being able to rename the first track on the Timeline.
---
File Import Changes vol.1
The flagship feature of this update is the first part of a redesigned experience for opening audio files. This affects the Audio File Node, Convolver Node, and the Sampler Node as well.
When opening a file, you now have 2 options:
Open local file — same as before, you open an existing file from your device.
Record audio input — record a sound and use the result in your Node, there are plenty of settings for recording.
A 3rd option is coming later, which'll let you browse from a list of "stock" audio assets. But more on this in a later update.
---
New Experimental Pad Synth Node
This update also introduces the new, experimental Pad Synth Node.
This is an upcoming, very powerful Node in the Audio Sources category that, as its name implies, creates lush synth pad sounds. It works by drawing a frequency envelope and tuning some settings, like this: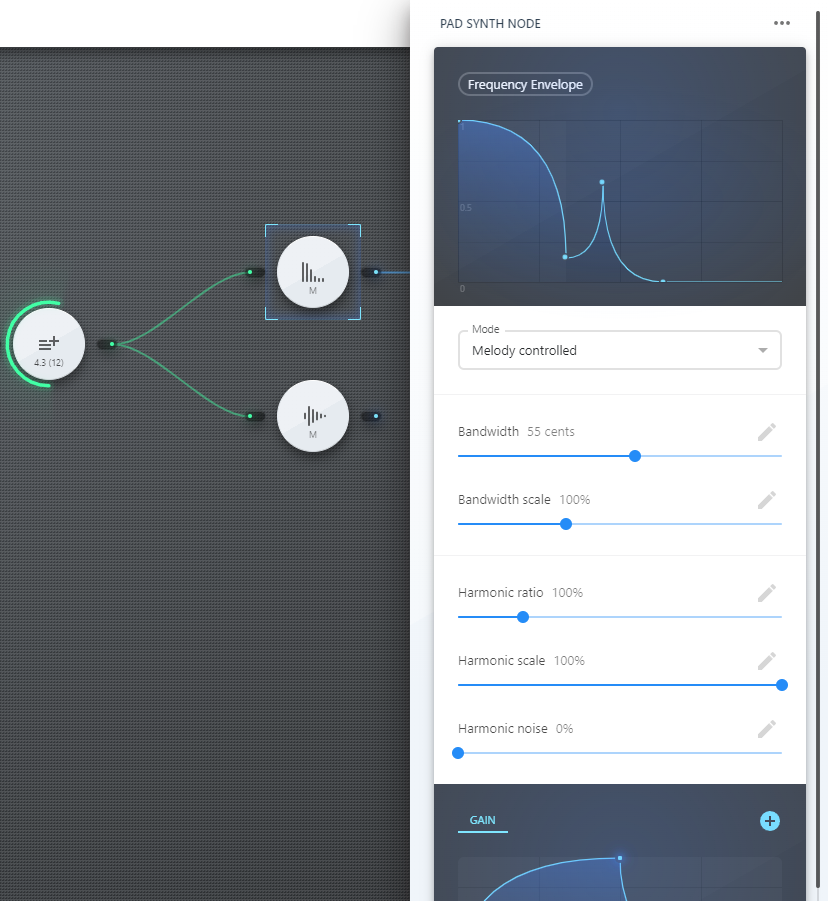 While the Pad Synth Node works pretty well already, it will probably see plenty of changes and tuning before being considered for stable release.
---
Misc Changes & Fixes
Fixed some outputs being difficult to click, when multiple outputs were present.
Creating a new connection shows visual feedback once again.
Removed Direction setting from the experimental Harmonizer Node, and added a Gap setting instead.
The experimental Harmonizer Node's Width setting no longer creates twice as many harmonics/notes as expected.
Fixed an error message variant for email validation during signups.
Added a new service status check to the status page for emails.
Opening an example project now shows all featured snippets by default.